From Me to ***********@**********.org:
Hello,
I live a few blocks away from you and couldn't help but notice you are having a garage sale this Saturday. I am going to have to kindly ask you to change the date of your garage sale. I am having my annual world class garage sale on that day, and I do not want you to take away any of the customers that would be coming to my garage sale.
If you could hold your garage sale some time during May or June, that would be great.
Thanks,
Mike
From Karen ******** to Me:
I'm not changing the date. There is plenty of room for both of our garage sales.
From Me to Karen *******:
Karen,
There is not enough room for both of our garage sales. As I said earlier, my garage sale is a "world class" event. It draws in garage sale connoisseurs from all over the region. I have already booked a bartender and a string quartet for my sale on Saturday. My garage sale is a classy experience, and I do not want that experience to be ruined for customers who mistake your garage sale for mine. Now I'm not saying your garage sale isn't going to be nice, but I highly doubt you have a bartender and string quartet at your sale.
Please take down all of the ads in the neighborhood for your sale to avoid any confusion for my customers.
Mike
From Karen ******** to Me:
How rude of you to even make this request. I have the right to have a garage sale when ever I want to. What gives you the nerve to think you can tell me what to do?
From Me to Karen *******:
Karen,
You are correct, you do have the right to do whatever you want. I realize that I cannot change your mind about this.
I can, however, put up this ad all over the neighborhood. Let me know what you think of it: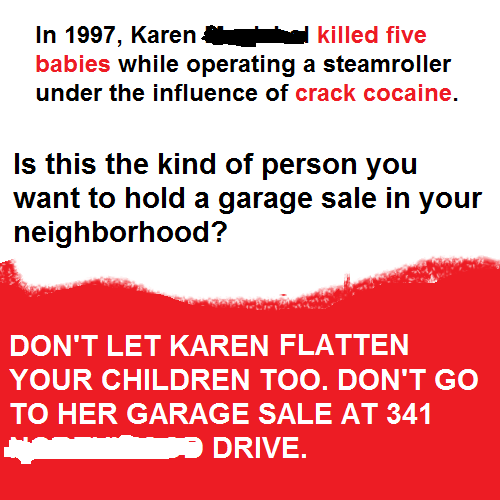 Best,
Mike
From Karen ******** to Me:
What the hell is the matter with you? I swear if I see any of those ads in the neighborhood I will tear them down and report you. Do not speak to me again about this. You have been warned.
From Me to Karen *******:
Karen
I'm willing to cut you a deal and get you a spot on the guest list for my world class garage sale if you cancel yours.
Mike
From Karen ******* to Me:
Screw you and screw your world class garage sale, you world class prick.